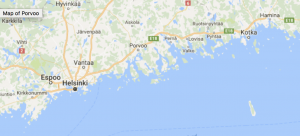 Porvoo is a city and a municipality situated on the southern coast of Finland approximately 50 kilometres east of Helsinki. Porvoo is one of the six medieval towns in Finland, first mentioned as a city in texts from the 14th century.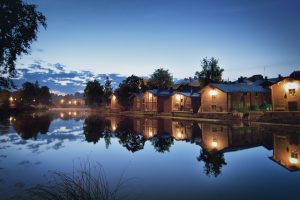 The area of Porvoo has been inhabited since the stone age, but the city was first mentioned in documents in the early 14th century, and Porvoo was given city rights around 1380, even though according to some sources the city was founded in 1346. The old city of Porvoo was formally disestablished and the new city of Porvoo founded in 1997 when the city of Porvoo and the Rural municipality of Porvoo were consolidated. When Sweden lost the city of Viborg to Russia in 1721, the episcopal seat was moved to Porvoo. At this time, Porvoo was the second largest city in Finland.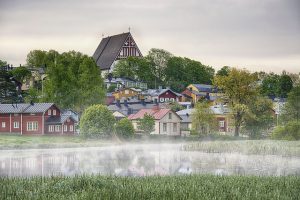 The town is famed for its "Old Town", a dense medieval street pattern with predominantly wooden houses. The Old Town came close to being demolished in the 19th century by a new urban plan for the city. The central point of the old town is the medieval, stone and brick Porvoo Cathedral. The cathedral was damaged by fire on 29 May 2006: the roof was totally destroyed, but the interior is largely intact. The red-coloured wooden storage buildings on the riverside are a proposed UNESCO world heritage site.
Porvoo has a vibrant restaurant and café culture, and there are many options available around the old town.
Photos courtesy of VisitPorvoo.