From the airport
Bus
Porvoo is situated near the Helsinki-Vantaa airport.
There is a bus connection to Porvoo ten times a day taking about 50 minutes. Most of the connections include one change of bus, but not to worry – the first bus is an airport shuttle designed to help you get on the right bus going to Porvoo. Cost is around 20 €. Find the timetables at matkahuolto.fi
An example schedule for a September Sunday is as follows: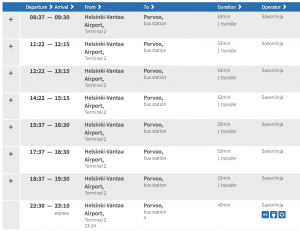 Car
The drive to Porvoo directly from the airport takes about 30 minutes and a taxi costs around 60-70 €.
From Helsinki
You can easily get to Porvoo by bus from Helsinki, there is frequent bus service daily. From the centre of Helsinki the bus trip to Porvoo takes about 50 minutes.
Timetables and ticket prices: matkahuolto.fi